Your Extended Stay in Laguna Beach
Make Sunset Cove Villas your home away from home. Our luxury, oceanfront vacation rentals offer the perfect home base for your extended stay in Laguna Beach. Our apartment-style villas are well equipped for a lengthy stay, complete with kitchen facilities, stylish interiors, breathtaking ocean views, direct beach access, and a convenient location that allows you to easily explore the local area.
Whether you are in the area for work or play, you will find a seamless blend of both at Sunset Cove Villas. From corporate travels to romantic getaways, our villas are sure to satisfy all of your needs. Find access to Wi-Fi and parking on property, alluring common spaces, laundry facilities, outdoor areas to grill and gather around a fire pit, and best of all - lounge on our private and pristine beachfront.
Making Sunset Cove Villas your home away from home is even easier with our Laguna Beach vacation deals. We are pleased to offer reduced extended stay rates, along with special perks to thank you for booking your stay directly on our website. Use our competitive weekly and monthly rates to save on your extended stay in Laguna Beach today!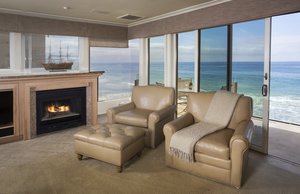 Weekly Rates
Making your extended stay in Laguna Beach even easier, enjoy the perk of reduced rates and special savings on any month- or week-long stay at Sunset Cove Villas. To request your special extended stay rate, simply contact our team at: Phone: (951) 283-1052 Email: 
[email protected]
We will respond as soon as possible with further booking details. When choosing